ActiNav
ActiNav is an autonomous bin picking solution from UR that synchronously handles vision processing, collision-free motion planning and autonomous real-time robot control, eliminating the complexity and risk usually associated with bin picking applications. The system requires no vision or robotic programming expertise, but is instead based on a "teach-by demonstration" principle using a six-step, wizard-guided setup process integrated into the UR cobot teach pendant.
Autonomous operation: allows higher machine up-time with collision-free motion, less refilling with deep bins, and accurate part placement
Easy to Use: intuitive & prompt-based programming, easy system setup, and easy training
Fast to Deploy: scan-to-teach programming, and free spin pick
Read more about ActiNav
---
In-Sight D900 ViDi Deep Learning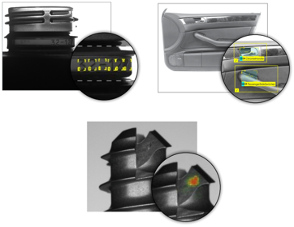 The Cognex In-Sight D900 is a vision system powered by In-Sight ViDi software designed specifically to run deep learning applications. This embedded solution helps factory automation customers easily solve challenging OCR, assembly verification, and defect detection applications that are often too difficult to deploy with traditional, rule-based machine vision tools and require reliable, fast and consistent results not possible with human inspection. In-Sight ViDi applications are deployed on the In-Sight D900 smart camera without the need for a PC, making deep learning technology accessible to non-programmers. It uses the familiar and easy-to-use In-Sight software platform which simplifies application development and factory integration.
Flexible programming interface
Simplified integration in a common environment
Innovative deep learning tools
---
Cognex DataMan 475V Bar Code Verifier
The DataMan 475V Series Inline Barcode Verifier provides automated high-speed verification and quality reporting directly on your line to prevent product waste and chargebacks. Immediate feedback and visual diagnostic information provides operators with the ability to identify and correct printing and process control issues as they happen. Detailed reports can be generated for traceability, process control, and compliance.
Verify on high-speed lines without sacrificing analytics
Achieve compliant barcode verification results
Auto-generate code quality data and reports
---
Epson C12XL 6-Axis Robot
The highly efficient C12XL 6-Axis Robot is packed with next-generation technology and many ease-of-use features included with the powerful Epson RC+® development software. The long 1,400 mm reach and up to 12 kg payload make it ideal for a variety of applications including packaging, load/unload, material handling and more. Powered by proprietary Epson® gyro sensors, the powerful servo system allows for low residual vibration and minimizes overshoot with smooth end-of-arm motion. The C12XL also offers high acceleration/deceleration rates and high-speed cycle times to optimize parts throughput. Its SlimLine design and compact wrist pitch enables access to hard-to-reach areas, making it perfect for confined spaces. ISO 4 Cleanroom models are available.
Easy-to-use Epson RC+ programming software
Gyro sensors for low residual vibration
Smooth start/stop with high accel/decel rates
Fast cycle times to optimize part throughput
SlimLine design; compact wrist pitch
---
Robot Application Kits
Streamline deployment for the most popular cobot applications by combining multiple components with software designed on the UR+ platform. 
Assembly Kit
Dispensing Kit
Finishing Kit
Machine Tending Kit
Material Handling Kit
Quality Inspection Kit
Welding Kit
Read More about the Application Kits
---
---